History of Freemasonry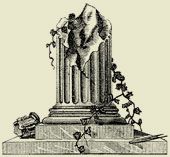 The origins of Freemasonry are largely lost in the fog of history. Written records of modern Masonry's precursors date back at least to the 14th century, while other aspects of Masonry date back thousands of years. The earliest known use of the Square and Compasses symbol is its carving in an altar from 3800 B.C. There is evidence that an elementary type of craft association existed as early as the time of King Solomon's Temple (about 1012 B.C.). That structure was the architectural masterpiece of its day; and because of the relationship between those early masons and the building of that spiritual edifice, Masonic tradition is rich in references to its construction.
The ancient Egyptians, Greeks, and Romans taught higher education in schools resembling lodges, and protected their learning, and at times their existence when their teachings were proscribed, with secret signs and symbols. Guilds of stonemasons were operative at this time, building the great architectural works of the Roman Empire. Cleopatra's Needle also has symbols used by modern Masons in its base. How these associations and secret societies of the ancient world led to modern Freemasonry is uncertain.
Modern Masonry dates itself from 1717 when four existing Lodges in London met together to form a Grand Lodge. Their success in regularizing Masonry led to its rapid growth throughout Britain, Europe and in the American Colonies. Masonry was established in France sometime between 1718 and 1725. The first Lodge in Spain was established in 1728. A Lodge was established in Prague in 1729, in Calcutta in 1728 and in Naples in 1731. Masonry reached Poland in 1734 and arrived in Sweden in 1735. The first Mason came to America in 1682 and by the 1720′s Lodges are known to have existed throughout the colonies. The first chartered Lodge on record is St. John's Lodge in Boston which was founded in 1733.
Oppression
The growth of Freemasonry and its ideals and beliefs came not without opposition. Masons are taught that all men are equal and for that reason we meet on the level. Individual freedom of thought and action, democratic governance of our lodges, as well as morality and ethics, are the concepts and ideals upon which our Order is founded. Wherever there is freedom, Freemasonry flourishes, wherever there is autocracy it is condemned and suppressed.
Adolf Hitler, for example, murdered more than 200,000 Freemasons. Benito Mussolini and Francisco Franco imprisoned or murdered Freemasons as well, Franco going so far as to pen a book condemning our Order. Both Stalin and Mao prohibited it's practice and executed Masons. Since the fall of communism in Eastern Europe there has been a restoration and a resurgence of Freemasonry throughout those once oppressed nations.
The Best and Brightest
Freemasonry has always attracted the best in society. Statesmen, philanthropists, educators, jurists, men of science and ministers of all faiths have been active and enthusiastic Masons. The writers Voltaire, Rudyard Kipling, Walter Scott, Tolstoi, Jonathan Swift, and the poet Robert Burns were Masons as were philosophers Krause, Fichte and John Locke. Mozart, Franz Haydn, Jean Sibelius were all Freemasons while both Louis Armstrong and George Gershwin claimed to be Masons. The inventor James Watt and engineer Alexandre Eiffel were Masons as were explorers Robert Scott, and Ernest Shackleton. Edwin "Buzz" Aldrin, the second man to walk on the moon, is a Freemason and took with him a Masonic flag. The list of royalty from one country after another who have belonged to and/or were and are patrons of Masonry is too long to list.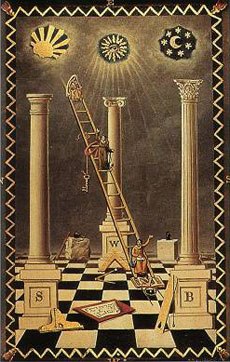 Standing for Liberty
Many of those associated with the independence movement of the American Colonies and the establishment of the United
States were Masons. These include Paul Revere, Patrick Henry, Joseph Warren, Nathan Hale, John Hancock, John Paul
Jones, Benjamin Franklin, George Washington, along with most of his generals, to list only a few. Giuseppe Garibaldi,
Lord Wellington, Simón Bolivar, Sam Houston, LaFayette, Douglas MacArthur, both Theodore and Franklin Roosevelt,
and Gerald Ford [along with 11 other Presidents] were Freemasons, as was Sir Winston Churchill.
Role in Society
In Hollywood, Freemasons have included men such as Walt Disney, Cecil B. DeMille, Douglas Fairbanks, John Wayne and Clark Gable, to name but a few. Harry Houdini, Al Jolson and Red Skelton were also Masons.
It is common for Freemasons to form a significant portion of every American community's political and civic leaders. Police officers, fire fighters and those in our Armed Forces are often drawn to Masonry.
Benevolence and assistance to others, both Mason and non-Mason, have been an important component of Masonry since time immemorial. World-wide there are an estimated five million Masons, nearly two million in the United States alone. Arizona has some 8,000 Masons meeting in more than 60 Lodges statewide. We are proud of our past, proud to have stood for freedom. But we look with no less pride to our future.
History of Wayfarers Lodge #50
Ten Masons met in a private home on February 17, 1948 in the then unincorporated area of Sunnyslope, in north Phoenix, Arizona. They formed a Masonic club and adopted the name Wayfarers Club. For most of the next two years they met twice a month in their homes, finally agreeing to regularly meet in the workshop of W. B. Bill Mays, a Past Master of the Silver Trowel Lodge #29 of Phoenix who lived immediately across the street from the location of the Lodge today. During that time dues were assessed and the number of members grew to approximately 30. They were from such diverse walks of life and nationalities they informally referred to themselves as "The League of Nations".
After considering various options the club decided that rather than rent a location it preferred to construct its own building. Bros. William Mays, Howard Christy and Charles Cash had knowledge and skill in construction and served on the building committee. The Club then devoted itself to fundraising. The Mays donated the parcel of land on which the Lodge sits today. During the early 1950′s a small building which is today's dining room was erected and served as a clubhouse. Construction on the meeting hall began almost at once.
Becoming a Lodge
On September 11, 1954, at a Special Communication of the most Worshipful Grand Lodge, F & AM of Arizona, Grand Master Lewis S. Neeb presented a dispensation to the brothers of the Wayfarers Club to form a Lodge. Wayfarers Lodge U.D. [under dispensation] was then able to move forward and perform degree work. Gifts of Masonic paraphernalia were presented at the time to the new lodge by other Masonic groups. The first Stated Meeting was held two days later at which time William Mays was elected Worshipful Master. The decision was made that the new lodge would possess clear title to the building by the time it received it's Charter. Shortly thereafter the Lodge bought the building and land from those who initially donated it.
There were approximately 18 members until the Lodge received its Charter on April 25, 1955 at the Annual Communication of the Grand Lodge of Arizona. During this time members continued working on the completing the meeting room. Regular meetings, social events, and fundraising activities continued at a fast pace. On Sunday, May 1, 1955 at a Special Communication of the Grand Lodge, Grand Master Carey B. Wilson, presided over the installation of Lodge officers, dedication of the new building and the laying of the cornerstone. We believe it is the only time in the history of Arizona Freemasonry in which a Lodge was granted its Charter and had its new building dedicated at the same time.By the end of that decade membership stood at approximately 90 Brothers.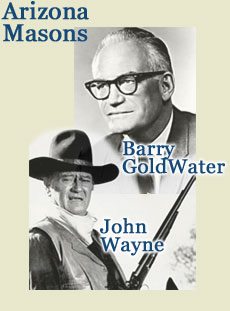 Unique
In 1968, with residual funds from the Wayfarers Club, the noted black and white tiled floor was installed, as a representation of the ground floor of King Soloman's Temple, the only one of its kind in Arizona. This gift marked the end of the Wayfarers Club.
At the beginning of the 21st century, Wayfarers Lodge #50 has a membership of approximately 120. Over the decades some 600 Masons have belonged to or become Masons through the Lodge. Today, Wayfarers Lodge #50 continues to be recognized for it's outstanding Ritual work.
-Based on the history of Wayfarers #50
written by Forrest H. Page, PM
History of Masons in Arizona
Freemasons from across the United States, as well as from Great Britain and Europe, were among the earliest settlers in Arizona. In 1864, just one year after the Territory of Arizona was formed, a meeting of Masons was held in the Prescott home of John H. Goodwin, Territorial Governor. Nine Master Masons signed a petition requesting dispensation from the Grand Lodge of California to form the first Freemason Lodge in Arizona. It was necessary to receive permission from the nearest Masonic Lodge so the petition was carried to Santa Fe, New Mexico for that purpose. Once obtained, the petition was sent to California and dispensation was granted on April 22, 1865.
The document was conveyed by horseback through Indian territory, carried for safety's sake inside the messenger's shirt. Perspiration obscured some of the lettering and the document can be viewed today at Aztlan Lodge No. 1 in Prescott, the first Lodge organized in Arizona. Its charter was granted in January, 1867.
Expansion
The first recorded gathering of Masons in the Phoenix area took place on April 16, 1874. The sad occasion was to hold a Masonic funeral for Brother Paul Hondle, who had been killed by Apache Indians two days earlier at McDowell Pass. The city of Phoenix lowered it's flag to half staff in Brother Hondle's honor.
Five years later Masons in Phoenix obtained permission from Aztlan Lodge No. 1 in Prescott to form a Lodge. On August 3, 1879 they petitioned the Grand Lodge of California for dispensation which was granted. The Lodge, known as Arizona Lodge No. 2, received it's charter on October 16, 1879.
Two years later Masons in the mining town of Globe desired to form a Lodge but lacked a two story building in which to meet, a requirement of the Grand Lodge of California. To circumvent this rule they requested dispensation from New Mexico which they received. White Mountain Lodge No. 3 was subsequently chartered on January 18, 1881.
The first known meeting of Masons south of the Gila River took place on April 11, 1875 in a private home to form a Masonic Club. In 1881 the club petitioned the Grand Lodge of California for dispensation to form a Lodge which was granted the following month. Nineteen Brothers then formed Tucson Lodge No. 4 which was granted a charter on October 15, 1881.
The final Lodge formed in Arizona under foreign jurisdiction was King Solomon Lodge No. 5 in Tombstone. It was granted dispensation by the Grand Lodge of California on June 4, 1881, and was chartered by the Grand Lodge of Arizona on March 25, 1882.
Forming the Grand Lodge
In early 1882 Tucson Lodge No. 4 sent letters to the other Lodges in the Territory of Arizona to meet for the purpose of dedicating their new Lodge Hall and to form a Grand Lodge. On March 23, 1882 delegates from each of the Lodges in Arizona, save one, meet in Tucson and organized themselves as a Grand Lodge. Not attending was Aztlan Lodge No. 1 at Prescott which did not send a delegation, holding the opinion that the move was premature. The other Lodges adopted a constitution and elected officers, then organized the Most Worshipful Grand Lodge of Free and Accepted Masons of the Territory of Arizona. It was opened in due form on March 25, 1882, granting a charter to King Solomon Lodge No. 5 on the same day. The first Grand Master was Ansell Mellen Brag.
There were, in all, five subordinate Lodges at the time with a total membership of 274 Brothers. Each of the original five Lodges have remained active since that time. There are today more than 8,000 Masons in Arizona and Masonic Lodges can be found in virtually every community. Famous Arizona Masons include Barry Goldwater, John Wayne, John Rhodes, former House Minority Leader, and George Hunt, Arizona's first governor, to name but a few.
- Taken largely from information in a paper by
Brother Kenneth Warren Hoskins
published by the Arizona Research Lodge No. 1, August 5, 1959
reprinted July 13, 1994